Canadian JoeMeet Exclusive Snowbank
Presented by:
AND
Another year, another infamous Canadian JoeMeet exclusive figure. What makes these figures so desirable and so in demand? I think it's a combination of things, but most importantly it's an understanding of how certain parts and pieces work together to make a figure that looks good and remains functional. Black Ice is certainly the measuring stick to which all future exclusives will be compared (for better or for worse), and while Snowbank doesn't quite hit that plateau in my opinion, he is quite a bit better than last year's Shiver, or even JoeCanuck. A worthy foil for the COBRA mercenary, to be sure.
Like the other figures, the JoeCanuck guys have to really work to find parts that are not only functional and appealing, but that are also accessible and affordible. Once again, Mike and the others were very successful in their attempts and the parts chosen work very well in this regard. Not only do they work nicely, but the look great, too. I never would have thought to use Lamprey's head for a different kind of figure, much less a Joe one, or an arctic one, but it works exceptionally well, giving the suit's wearer some eye protection, defense from the elements, and a more "faceless" look so it can be anyone under that helmet.
Unlike both Black Ice and Shiver, the JoeCanuck folks went with a purely 80's pool for these parts, but still managed to stick to obscurity and give us some stuff we haven't seen 100 times already. The combination of the Lamprey head and the Techno Viper torso is surprisingly flawless and both work well, especially considering this is designed as a prototype arctic attack "suit". The various tubes and uniform detailing work well to make that a convincing proposition and Snowbank ends up as a figure that looks like he could go toe-to-toe with Black Ice and hold his own.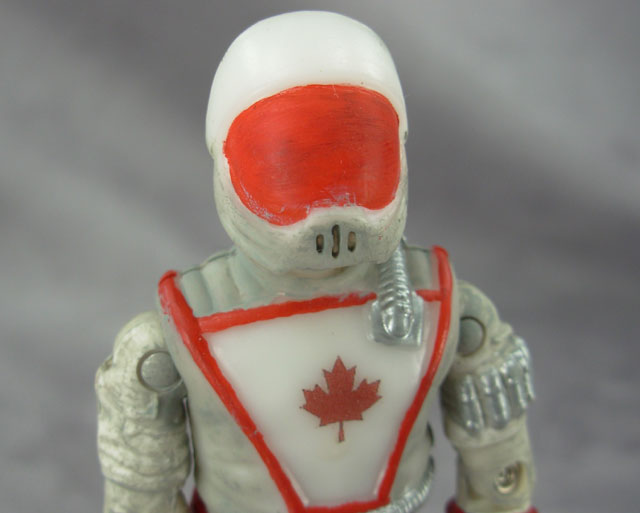 So even though Snowbank uses a lot of vintage/classic parts, they still end up being somewhat obscure and unusual.
Head: Lamprey
Torso: Techno Viper
Arms: Maverick
Waist: '85 Eels
Legs: '85 Bazooka
I'm glad to see that even though we're getting some '85-'87 parts, they're still parts that aren't instantly recognizable and end up making the figure look a bit different, which is great. Definitely a nice parts selection.
The JoeCanuck guys have a thin wire to walk as well when it comes to colors and paint applications with their figures. With no access to overseas factories to tool up figures in certain colors, and no "paint masks" or other technology, it's essentially up to them to single-handedly paint the figures, and let me tell you, painting white is a serious pain in the tuckus. They often get around these hurdles by using some white parts, and in certain cases also get casting of certain parts, and they can probably get that stuff done in white as well to help defray the painting process at least a bit. However they go about it, though, coloring figures white can still be a pain, but they manage to do it well, and they add in some nice black wash, too, which adds some depth, darkens the figure up some, and gives us a pretty interesting looking figure that still maintains the familiar "JoeCanuck" (and Canadian for that matter) color scheme.
The white and red balance each other very well, and of course they have their own iconic nature, and the Canadian flag waterslide decal (if that is what it is) looks terrific. That hint of silver on the left armband and the tubes on the chest bring out some color, too. The red visor is an interesting choice, but ends up being pretty successful.
Like with Shiver, the weapons and accessories are supplied by Marauder, Inc. A nice automatic rifle, pistol and laptop along with a standard battle stand all give the figure a nice rounded selection of gear to pull from. Somewhat generic weaponry, but to me the figure is the highlight, anyway.
A very nice surprise here, though, is that his filecard was actually written by Larry Hama! A nice cohesive write up with some cool history and all of those unique traits we've started to expect from G.I. Joe's "godfather". Very cool. As an added bonus, Mr. Hama was even able to attend the 2008 Canadian Joe Con (along with Hasbro Canada themselves!), so he had a definite personal influence on this figure, something that not even the other 3 Canadian Joe Meet figures could boast. Something they should definitely be proud of, and a definite drawing point to the figure.
Of course I would be somewhat remis if I didn't also bring up these new JoeCanuck Trading Cards! They were first given out at the Canadian Joe Meet this year, but are now available for whoever wants 'em. Click here to get more info from JoeCanuck.Com and ask for yours! Keep checking the site, too, because more cards are definitely on the way! :)
As with every Canadian Joe Meet figure, folks have to keep in mind that these are customs. I am happy to report I haven't experienced many issues with "paint chipping" but I do have to admit the joints are a bit loose on my Snowbank...your mileage may very, but these are meant as display items (and excellent display items at that!) so that shouldn't be so much of a concern. Standing this guy up on your shelf, either alone or alongside Black Ice, JoeCanuck, and/or Shiver, he will fit right in, and he's a great addition to the growing "Canadian Joe Meet" batch of figures.
Ultimately I'm very, VERY happy with the looks, the backstory, and the execution of this figure all told, and I love how he works in the JoeCanuck story. A great addition to the cast, the folks up north have done a great job as always.
If you're a fan of these figures, or the Canadian Joe Meet in general, make sure to keep visiting JoeCanuck.Com and CanadianJoeCon.Com for details on the next Canadian Joe Con. Also, make sure to check out the newsletters as they're posted for the awesome content contained within (including my own dio-story based in the JoeCanuck universe).