Master Collector Operation: Flaming M.O.T.H.
Desert Range-Viper & Desert Flak-Viper
Toy name: Operation: Flaming M.O.T.H. Desert Theatre
Assortment: N/A
Price: MSRP $24.99
Availability: July, 2006; G.I. Joe Collectors' Club Exclusive
While Hasbro started out really strong with their classic sculpt offerings in the "new age" of G.I. Joe...the Python Patrol...Tiger Force...COBRA Infantry 6-Pack. It seemed like the possibilities were endless for what great things we might get. But it almost seemed like the wind went out of the sails once Hasbro realized just how limited their tooling supplies were. Things quickly got rehashed, redone, and old news with every six-pack and it got less and less exciting as the sets came out.
Meanwhile, the Collectors' Club continues to put out pretty decent caliber offerings, even using common molds, and I find myself very pleasently surprised with this second Operation: Flaming M.O.T.H. set, too.
I mean, come on? A desert set? Who needs that? At first I was really hoping maybe we'd see a Desert Scorpion or some other cool obscure mold. Instead we got two figures we've received in recent memory, but for some reason, the Club's color choices and paint apps (along with their filecard writing) has made me appreciate this set more than I thought I would.
First of all, I'll talk about the Desert Range-Viper.
I'm one of the few Range-Viper fans out there, I think, and there are a lot of folks who can't find many redeeming factors about the trooper. Personally, I've always loved his skull-themed face mask, interesting body mold, and cool "Wilderness Trooper" specialty. This specialty is perfect for desert operations as well.
The head sculpt immediately draws you in and makes this a threatening character...those menacing eyes, that toothy grin...right off the bat this is a dangerous, unstable person, and it's been a big favorite of mine for years.
However, I do believe that this mold hit its apex in the year 2000 with the absolutely awesome Rock-Viper figure. The excellent Range-Viper sculpt combined with the fantastic dark blue and red shades, combined with the cool paint-brushed white..it was the ultimate use of this mold. While the desert version doesn't come close to topping that version, I find myself oddly drawn to this figure, which should be bland and boring, but ends up being useful and interesting. How in the world, you may ask, can different shades of brown be interesting? Don't ask me, but somehow they are.
The base uniform is a light tan, but somehow the Club has mixed in some slightly darker tan shades as well, and you end up with a figure that is VERY subtly camouflaged, but still has some obvious color differences throughout the body, and it's a pretty neat effect. A dark brown trims his shoulders, shinpads, belt, and gloves, and really works nicely with the base color. Black and silver finish off the color pallet, and all of the colors make perfect sense and end up being a lot more enjoyable than I thought they would be at first.
And, I really hate to say it, but I find this COBRA Trooper as single character concept is getting really interesting. I know the Club is most likely just trying to milk the army builder concept, but any excuse I can find to make troopers into specific characters, I'm running with it, and the personalities of these guys is pretty interesting so far. I love Range-Viper especially, and how they tied him in with Skullbuster, and really managed to give him some personality. I know people have their issues with the way Brian worded some of his answers to the army builder question...but at its essence, all I care about is good toys, and I'm pretty happy with the Range Viper.
Range-Viper ends up keeping the majority of his accessories as well, which I'm happy to see. No knife, but he's got the grenade launcher, air hose, backpack, and missile launcher. He's got all of the important gear that the Range Viper originally came with, and overall were pretty good choices. I would prefer a machine gun of some type, but the Range-Viper has come with this gear since day one, so I can't talk bad too much.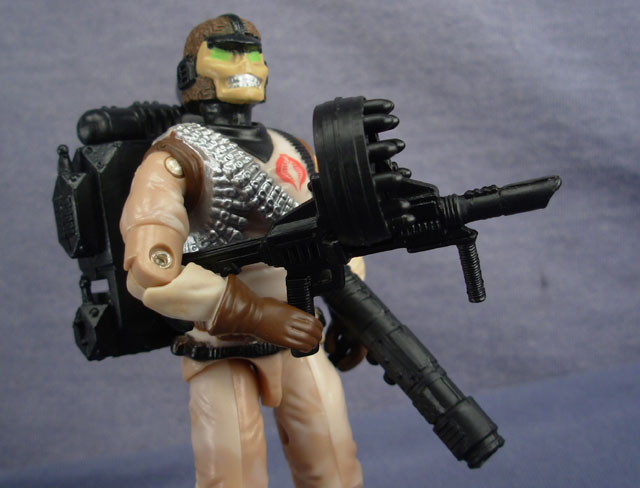 There are certain figures that I just can't get enough of, regardless of how they are released and where they continue to appear. The Flak-Viper was a figure I loved from day one...the green and blue one, the green and orange one, and especially the blue and black Nullifier from the COBRA Urban Strike Team a short while ago. Like the Range-Viper, I think the Flak-Viper has already hit the ultimate use of the mold, in that aforementioned Urban Strike Team version, but this current version isn't a slouch by any stretch.
Regardless of what capacity this figure is done in, his body mold is huge and imposing, and works perfectly as a large and in charge COBRA anti-aircraft trooper. From the tip of his helmet, to the soles of his thick boots, this guy is a human bullet-proof vest, with nicely sculpted padding, protective armor, and quilted surfaces everywhere. These boys are human "SAM" systems, designed and trained to stand out and rain fire on approaching air craft, willing to take the hits while they do it, and it makes them very threatening individuals.
Like the Range-Viper, you wouldn't think that a figure in these somewhat bland tan shades would be interesting, but I find him to be just as appealing as the similarly colored Range-Viper. He uses many of the same colors as his box-mate, and they are just as successful. Each different surface as just a slightly different color look to it, and it's all of the small details that really make the paint scheme shine.
There is some slight color alteration on the legs, from the top halves to the bottom halves, but I think it's because of the material used, and the difference is minor enough to not be a real big deal to me. All in all, regardless of color schemes, I am in love with the Flak-Viper figure mold, and I think it's used pretty well here. I'm not normally a fan of desert environment figures, but in this case, the colors work, the figures work, and I like these being represented as individuals. Overall, I like this set.
I was also happy to see that the Flak-Viper comes with a nice assortment of his regular accessories. While his backpack missile launcher is pretty funky and shoots in odd angles, I am thrilled that his over the top sniper rifle has been reproduced here, and in black no less. Very happy with what we've got for gear here.
The box art continues to work nicely for these sets and I like what I see here. It's got some great art, and supposedly some Easter Eggs as well. Some folks at JBL have started uncovering these cool added bonuses on the box, and have a thread up here discussing it. Pretty interesting stuff!
So far the Operation: Flaming MOTH items haven't brought us anything absolutely mind-blowing, but they've been some nice, solid, quality figures. The desert figures aren't anything fantastic, but they use some great sculpts, nice accessories, and while the color schemes are a little uninspired, the paint apps are crisp, clean, and appealing to the eye.
So far so good, in my opinion. I'm really excited to see what else is coming out for the Aquatic set and the Polar set.
Ratings (out of 10)
Characters: 8
Molds: 8.75
Paint Apps: 6.75
Value: 5
Overall score (not an average): 7.5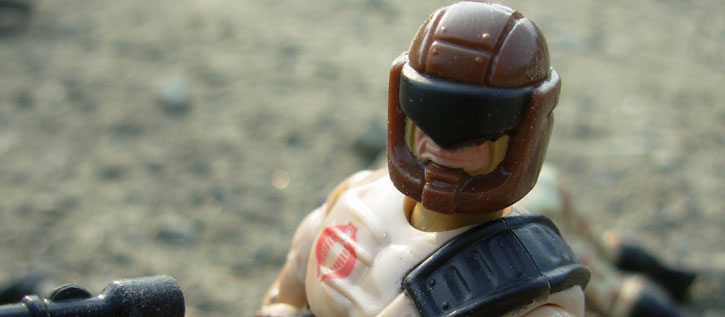 Back To Collectors' Club Reviews